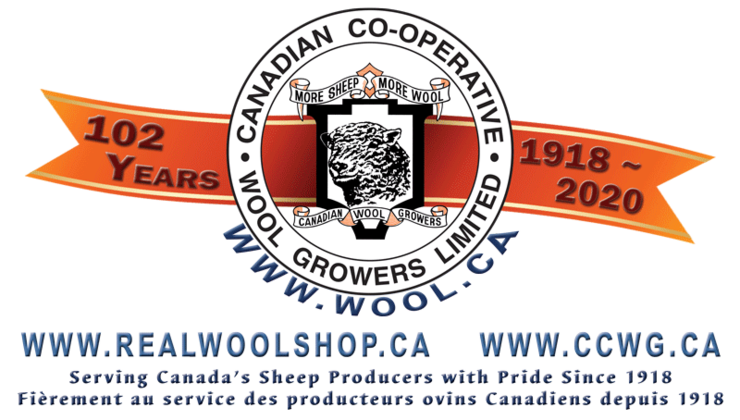 2020
CCWG Wool Industry News
CCWG recently held Management and Board of Director meetings at the 102nd Annual General Meeting held via Zoom video conference on October 17th, 2020

The 2020 elected Board of Directors are as follows:
Executive Committee /
President / - David Mastine, St. Felix de Kingsey, QC
1st Vice President / - Allan E. Ribbink, Tiverton, ON
2nd Vice President / - Ruth Mathewson, Central North River, NS
- Morgan A. Moore, Brandon, MB

Additional Directors on the Board are as follows /:
Audit Committee (3)
- Arlette Seib, Watrous, SK
- Roma H. Tingle, Prince George, BC
- Allison Preston, Lethbridge, AB

- Reggie K. Campbell, Ashton, ON
- Larry Kennedy, Shamrock, SK
- John D. Woodburn, Grimshaw, AB
Ruth Mathewson will continue to serve as the CCWG representative on the Canadian Sheep Federation in 2021. Sincere appreciation is extended to Warren L. Moore, Ward Harden and Gary J. Fox who are leaving the board in 2020. We thank them for their many years of excellent service.
For the fiscal year ending February 29, 2020 the co-operative recorded gross sales of just under 10.3 million which represents a decrease of 11.1% from the previous year. Net income of $257,101 from all business operations was achieved. Most of the decline can be attributed to lower wool sales and carry over of unsold graded wool inventory to the next fiscal year. The past couple of years the wool market has been like a double edged sword. In 2019 everyone in the wool business operated under very difficult conditions due to the China / USA trade conflict, Brexit and tensions in the Middle East. In 2020 the effects of Covid-19 is still having a widespread negative effect on the global wool market and the entire supply chain.
The Board of Directors have authorized a dividend payment of 7% to the shareholders of record date December 31, 2019. The company has always paid a dividend and it has been 7% annually since 1999. The Shareholder Wool Shipper Loyalty Reward Program (SWSLRP) will remain at the rate of 7 cents per pound on the 2019 wool clip. Full details of these programs can be found on the company website www.wool.ca. For a report on the current wool market and our business update – https://wool.ca/page/wool-market-reports.
2020 recorded our 102nd year in business. In 2021 the Annual General Meeting will be held in Prince George, British Columbia from October 14th – 16th.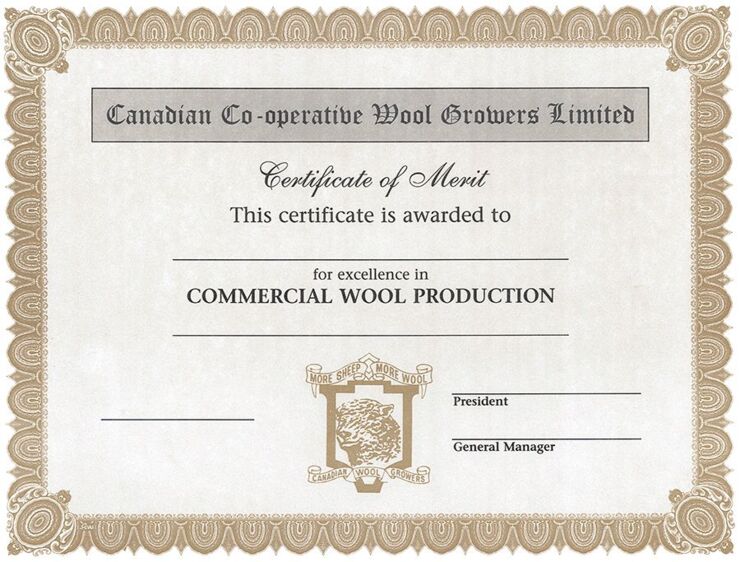 2019 Certificate of Merit
For excellence in commercial wool production